Sunil Narine is a world class bowler: Virat Kohli
Kolkata: Star Indian batsman and Royal Challengers Bangalore (RCB) skipper Virat Kohli praised Kolkata Knight Riders (KKR) spin spearhead Sunil Narine calling him a world class bowler on Friday.Ahead of their Saturday's Indian Premier League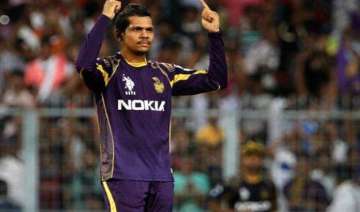 IANS
April 10, 2015 18:56 IST
Kolkata: Star Indian batsman and Royal Challengers Bangalore (RCB) skipper Virat Kohli praised Kolkata Knight Riders (KKR) spin spearhead Sunil Narine calling him a world class bowler on Friday.
Ahead of their Saturday's Indian Premier League (IPL) match against defending champions KKR at the Eden Gardens here, Kohli asserted his side has enough fire power in their bowling attack to plug the absence of injured Australian pacer Mitchell Starc.
"I saw him (Narine) bowl in the last match and I feel he is bowling slower than before. But even then, he was difficult to pick up. He has got the skill, whatever said and done," Kohli said.
"All the issues with bowling action and what not. He is got the skill that is why he is able to pitch the ball in the right area and get so many wickets and trouble batsmen all over the world," he added.
Bowling with a remodelled action, Narine who played a key role in Knights' twin IPL triumphs, went wicketless against Mumbai Indians in the opening match of the tournament at the Eden on Wednesday.
But it didn't stop KKR from registering a comfortable eight-wicket win.
"Its not that his action was the reason why he was bowling well. He has got the skill otherwise he won't be bowling at this level and getting world class batsmen out. He has taken two hat-tricks in IPl. He is a class act," said Kohli.
Narine was barred from bowling for a suspect action last year but was subsequently cleared by the International Cricket Council (ICC) and the Indian cricket board.
Kohli admitted the presence of several bowling options makes him optimistic about his team's chances in the tournament that is merciless to bowlers. He specifically picked Australian pacer Sean Abbott as a potential asset for his team.
"We will miss Starc at the start of the IPl but he coming in fresh at the middle or business end of the tournament will be a huge boost for us. It gives (Sean) Abbot the opportunity to perform and become a good cricketer," the right-handed batsman said.
"Our plus point is that we have good Indian fast bowlers in Ashok Dinda, Varun Aaron, Abu Nechim. We have got lot of options. We have got the bowling resources for sure its how we use them."
"Sean Abbot is as talented a bowler as anyone. He bats well, is a power hitter and bowls well in the death. He is a complete cricketer and having him at number seven or eight is a huge advantage for any team," asserted Kohli.
The stylish batsman also praised the Eden wicket terming it as a complete cricket wicket.
"The pitch is really good compared to the last two seasons. To see the first game happening on a lively pitch where the ball was coming on to the bat was very pleasing to see," the flamboyant player said.
"It was an even contest, the ball was turning, the fast bowlers had something for them and the batsmen enjoyed batting. All in all it was a complete cricket wicket," he added.