IPL 8: Sunrisers Hyderabad vs Delhi Daredevils scoreboard, Match 13
Visakhapatnam: Scoreboard of Sunrisers Hyderabad vs Delhi Daredevils, Match 13 of Indian Premier League 2015 played at Dr. Y.S. Rajasekhara Reddy stadium on Saturday.Skipper Jean-Paul Duminy led from the front with a brilliant all-round display as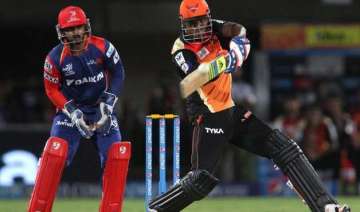 India TV Sports Desk
April 18, 2015 20:29 IST
Visakhapatnam: Scoreboard of Sunrisers Hyderabad vs Delhi Daredevils, Match 13 of Indian Premier League 2015 played at Dr. Y.S. Rajasekhara Reddy stadium on Saturday.
Skipper Jean-Paul Duminy led from the front with a brilliant all-round display as Delhi Daredevils pipped Sunrisers Hyderabad by four runs in a thrilling game. 
He first smashed 54 off 41 balls as Daredevils scored a decent 167 for four and then chipped in with four wickets as visitors kept their nerves in the crucial stages of the nail-biting contest to restrict Sunrisers to 163 for eight and record their second successive win.
Sunrisers seemed to achieve the target as they were cruising at 50 for no loss in just six overs, but Duminy changed the equation, grabbing four for 17 to guide the team to victory. 
Coulter-Nile, Angelo Mathews and Imran Tahir took wicket apiece. Duminy accounted for the top order, seeing off dangerous David Warner (28), Shikhar Dhawan (18), top scorer Ravi Bopara (41) and Eoin Morgan (1). 
Delhi Daredevils innings: 167/4 in 20 overs
| | | |
| --- | --- | --- |
|  Mayank Agarwal |  c Dhawan b B Kumar |  1 |
|  Shreyas Iyer |  c Warner b P Kumar |  60 |
|  JP Duminy |  b Steyn |  54 |
|  Yuvraj Singh |  c Warner b Reddy |  9 |
|  Angelo Mathews |  not out |  15* |
|  Kedar Jadhav |  not out |  19* |
|  Extras |  (b 1, lb 2, wd 6) |  9 |
|  Total |  for 4 wickets |  167 |
|  Overs |  innings break |  20 |
|  Fall of wickets                                   |  1-15 (Agarwal, 2.1 ov), 2-93 (Iyer, 11.3 ov), 3-132 (Duminy, 15.6 ov), 4-132 (Yuvraj, 16.1 ov) |                      |
Did not bat: Manoj Tiwary, Nathan Coulter-Nile, Amit Mishra, Imran Tahir, Dominic Joseph
Bowling
| | | | | |
| --- | --- | --- | --- | --- |
|  Bowling |  Overs |  Maidens |  Runs |  Wickets |
|  Praveen Kumar |  4 |  0 |  38 |  1 |
|  Dale Steyn |  4 |  0 |  27 |  1 |
|  Bhuvneshwar Kumar |  4 |  0 |  21 |  1 |
|  Ravi Bopara |  4 |  0 |  38 |  0 |
|  Karn Sharma |  2 |  0 |  25 |  0 |
|  Ashish Reddy |  2 |  0 |  15 |  1 |
Sunrisers Hyderabad innings: 163/8 in 20 overs
| | | |
| --- | --- | --- |
|  David Warner |  c & b Duminy |  28 |
|  Shikhar Dhawan |  b Duminy |  18 |
|  Ravi Bopara |  c Tiwary b Duminy |  41 |
|  Lokesh Rahul |  b Mathews |  24 |
|  Naman Ojha |  c Duminy b Tahir |  12 |
|  Eoin Morgan |  b Duminy |  1 |
|  Ashish Reddy |  run out (Coulter-Nile) |  15 |
|  Karn Sharma |  c Mathews b Coulter-Nile |  19 |
|  Praveen Kumar |  not out |  1 |
|  Extras |  (b 2, lb 1, wd 1) |  4 |
|  Total |  for 8 wickets |  163 |
|  Overs |  match over |  20 |
|  Fall of wickets                                |  1-50 (Dhawan, 6.1 ov), 2-51 (Warner, 6.3 ov), 3-89 (Rahul, 12.4 ov), 4-120 (Ojha, 15.6 ov), 5-128 (Bopara, 16.4 ov), 6-129 (Morgan, 16.6 ov), 7-159 (Ashish Reddy, 19.2 ov), 8-163 (Karn Sharma, 19.6 ov) |                       |
Did not bat: Bhuvneshwar Kumar, Dale Steyn
Bowling
| | | | | |
| --- | --- | --- | --- | --- |
|  Bowler |  Overs |  Maidens |  Runs |  Wickets |
|  Nathan Coulter-Nile |  4 |  0 |  26 |  1 |
|  JP Duminy |  3 |  0 |  17 |  4 |
|  Dominic Joseph |  2 |  0 |  20 |  0 |
|  Angelo Mathews |  4 |  0 |  38 |  1 |
|  Imran Tahir |  4 |  0 |  35 |  1 |
|  Amit Mishra |  2 |  0 |  14 |  0 |
|  Yuvraj Singh |  1            |  0 |  10         |  0 |