Suresh Raina Offers Prayers At Shirdi Shrine
Shirdi, Maharashtra, Jan 3 : Indian cricketer Suresh Raina today went to the famous Sai Baba shrine here and offered prayers.  He reached the shrine at 4 am, participated in the aarti and touched his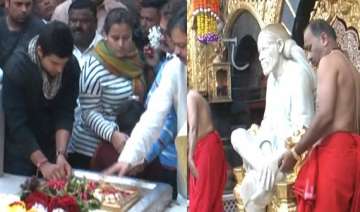 India TV News Desk
January 03, 2012 17:09 IST
Shirdi, Maharashtra, Jan 3 : Indian cricketer Suresh Raina today went to the famous Sai Baba shrine here and offered prayers.
 
He reached the shrine at 4 am, participated in the aarti and touched his Sai locket at the throne of Sai Baba.
 
Pune Warriors CEO Abhijit Sarkar and his family were present with Raina at the shrine.
 
Raina appeared to be suffering from cold and went out briskly without answering any questions from mediapersons.