T20 World: Winless India hope for a turn around, take on England in a last practice match
Mirpur: A win seems to be eluding India as their already low morale further dented when they lost a practice game against Sri Lanka Monday. Now India would be desperate for a win when they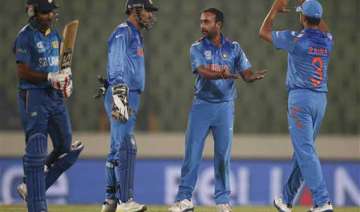 India TV Sports Desk
March 18, 2014 11:52 IST
Mirpur:
A win seems to be eluding India as their already low morale further dented when they lost a practice game against Sri Lanka Monday. Now India would be desperate for a win when they take on England in their second and final warm-up game in the ICC World Twenty20 Championships here tomorrow.     
India will be playing their first group league match against Pakistan on Friday and a win against England is a necessity considering the team's continuing poor form.     
The Indians went down by five runs in the opening warm-up match against Sri Lanka last night.     
Although they didn't set the stage on fire, the two comeback men Suresh Raina and Yuvraj Singh had a decent outing with the bat yesterday, which makes their case even stronger.     
Yuvraj scored 33 and Raina contributed 41 in a losing cause but both were out after they had got set. That both can also roll their arms over on this slow track at the Sher-e-Bangla Stadium makes young batsman Ajinkya Rahane's case a bit weaker.     
By getting out for naught having misread the flight of a Sachitra Senanayeke delivery, Rahane has done himself no good.     
The batsmen who automatically select themselves are Virat Kohli, Mahendra Singh Dhoni, Yuvraj Singh and Suresh Raina.     
While Raina batted at No 3 yesterday, it was done with an aim of giving skipper's trusted lieutenant a chance to settle down and play more deliveries since Kohli's place is settled in the side.     
Yuvraj is a player who has got four man-of-the-match awards in India's last five official T20 internationals.     
The only place Rahane fits in is at the top of the order where both Rohit Sharma and Shikhar Dhawan have been struggling of late. Rahane has also successfully opened for Rajasthan Royals in the last two seasons of the Indian Premier League.