Team Profile: Bolstered Daredevils look to buck IPL trend
New Delhi: Delhi Daredevils' desparation to reverse their Indian Premier League (IPL) woes forced them to employ a convenient solution - playing the "money card" - at the auctions to infuse some enthusiasm in a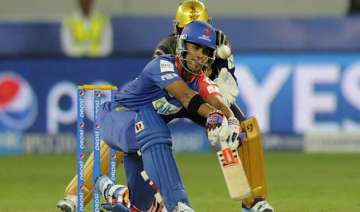 IANS
April 07, 2015 14:43 IST
New Delhi: Delhi Daredevils' desparation to reverse their Indian Premier League (IPL) woes forced them to employ a convenient solution - playing the "money card" - at the auctions to infuse some enthusiasm in a camp saddled with deflating prior performances.
Having flattered to deceive on all the past seven editions with the ignominy of finishing at the bottom of the standings last year, they cherry-picked out-of-favour batsman Yuvraj Singh from the bidding, shelling out an astronomical Rs.16 crore.
The wisdom of buying a fading star may be wrapped in time but it has been successful in lifting the miasma surrounding the team's fate. And it is on the success of this strategy that their IPL8 fortunes rest.
Yuvraj's IPL career mirrors that of his current team. The star southpaw has always been a "sought after" player by the franchises for his natural striking ability.
His marketability quotient is also kept in mind by the franchises while bidding as his glamorous presence helps his teams attract sponsors. Royal Challengers Bangalore kept all these factors in mind when they bought him for a whopping Rs.14 crore in 2014 only to release him the following year. Daredevils have taken that gamble this time around.
The big-moneyed acquisition came on the insistence of coach Gary Kirsten - with whom he has worked during his tenure as the Indian team coach - to bring a sense of familiarity in the dressing room.
Kirsten has admitted of being caught "off-guard" during his first season in charge of an IPL team last year. A wisened Kirsten has banked on acquaintance within his ranks this time, naming fellow South African Jean Paul Duminy as the skipper.
The Protean influence in the team is well established with batsman Quinton de Kock, leg-spinner Imran Tahir and all-rounder Albie Morkel adding might to the Kirsten-Duminy stewardship.
Daredevils retained only 11 players from their bitter last campaign and have overhauled the side, naming their third new skipper in as many editions.
The chop-and-change policy may not have brought the desired results but the team think-tank is willing to stick to them, atleast for another season. But it is their inability to create and hold onto a core of players that may hurt them again.
Apart from Yuvraj, they have welcomed old warhorses Zaheer Khan and Sri Lankan Angelo Mathews to compliment the youth of dashing Australians Marcus Stoinis and Travis Head. Stonis and Head impressed in last year's Big Bash League and may well be the surprise package of the competition.
Indian leggie Amit Mishra, a consistent performer in the tournament, can also be another important inclusion alongside Tahir. A strengthened pace attack with India's premier seamer Mohammed Shami leading the charge will improve their new-ball aspirations. Their fast-bowling attack suffered heavily due to lack of depth last year.
It will be imperative for them to identify their best XI and hope that things fall into place straight away in their first match against Chennai Super Kings away on April 9.
The team does possess a fair amount of pedigree but it is the transformation of promise to performance, particularly of Yuvraj, that may define Daredevils' IPL latest IPL adventure.
The squad:
Indians: Yuvraju Singh, Manoj Tiwary, Kedar Yadav, Saurabh Tiwary, Mayank Agarwal, Mohammed Shami, Jayant Yadav, Shahbaz Nadeem, Jaydev Unadkat, Amit Mishra, Zaheer Khan, Dominic Joseph Muthuswamy, Shreyas Iyer, C.M. Gautam, K.K. Jiyaz, Kona Srikar Bharat,
Foreigners: Jean Paul Duminy, Quinton de Kock, Imran Tahir, Nathan Coultier-Niel, Angelo Mathews, Gurinder Sandhu, Albie Morkel, Travis Head, Marcus Stoinis.
Team Schedule-Home matches: vs Rajasthan Royals (April 12), Kolkata Knight Riders (April 20), Mumbai Indians (April 23), Royal Challengers Bangalore (April 26), KXIP (May 1), Sunrisers Hyderabad (May 9), CSK (May 12)
Away matches: vs Chennai Super Kings (April 9), Kings Xi Punjab (April 15), Sunrisers Hyderabad (April 18), KKR (May 7), Rajasthan Royals (May 3), Mumbai Indians (May 5), RCB (May 17)
IPL Record: 2008-semi-finalist; 2009: semi-finalist; 2010: fifth, 2011: 10th, 2012: third; 2013: ninth; 2014: eighth.