IPL 8: Tendulkar still a big draw at Feroz Shah Kotla
New Delhi: Sachin Tendulkar may have retired from cricket but he still rules the hearts of fans with chants of 'Sachin, Sachin' reverberating once again at the Feroz Shah Kotla as the chief mentor of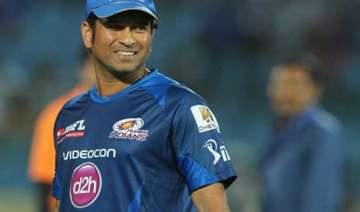 PTI
April 23, 2015 20:57 IST
New Delhi: Sachin Tendulkar may have retired from cricket but he still rules the hearts of fans with chants of 'Sachin, Sachin' reverberating once again at the Feroz Shah Kotla as the chief mentor of Mumbai Indians side walked out before the start of the IPL game here on Thursday.
A year and a half may have passed since the batting legend quit international cricket in an emotional farewell at the Wankhede, but Sachin mania is still alive with fans waiting to catch a glimpse of their hero whenever he is spotted.
Wearing the Mumbai colours, Tendulkar, who turns 42 on Friday not only looked at ease in his role but also waved to the crowed with his wide grin intact.
Standing tall in MI's star-studded support staff comprising Anil Kumble, Ricky Ponting, Shane Bond and Jonty Rhodes, Tendulkar's advice carries a lot of weight.
Always a Mumbai man, Tendulkar played six seasons of cricket for the Mukesh Ambani-owned IPL side and then moved into various mentoring capacities for the team.
The Rohit Sharma-led side has not lived up to the expectations of their fans this season but with their top men promising a turnaround soon, the team is looking up to their idol for inspiration.
The net sessions on Wednesday were a treat to watch after Tendulkar walked in to give tips to his batsmen and even on Thursday he was not only surrounded by MI players at the ground. Many Delhi boys also came to pay their respects to Tendulkar.
Tendulkar, who is in no compulsion to travel with the team, is expected to be with the MI squad in some of the matches in IPL season eight and Kotla was just too happy to have him.