Tendulkar To Bat In Top Gear In Adelaide
Adelaide, Jan 21: In his quest for a 100th international century, Sachin Tendulkar has often lost his wicket to defensive batting but the Indian icon is expected to be in top gear in the fourth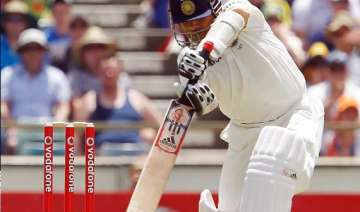 PTI
January 21, 2012 13:49 IST
Adelaide, Jan 21: In his quest for a 100th international century, Sachin Tendulkar has often lost his wicket to defensive batting but the Indian icon is expected to be in top gear in the fourth and final Test against Australia starting here on Tuesday.

"He's so charged up he wouldn't rest with just one century. Once he crosses the landmark, he would weigh-in with a big one, possibly a double century," said a team-mate.

Tendulkar is a lesser failure than his other team-mates on this disastrous tour Down Under where he is averaging 41.50 with 249 runs from six innings.

But the wait for the 100th century is getting more agonising by the minute and Australians are bowling as if they couldn't care any less than what Tendulkar does with his broad bat at the other end.

Tendulkar is acutely aware he has often hurt his good form by inexplicable lapses into a complete run-denial mode.  He owes it to himself to bat in one gear and with complete freedom in the final Test.

In the first innings of the Sydney Test, Tendulkar had moved to 20 off 24 balls with four fours. His next 21 runs took him 65 balls.

In the very next innings, Tendulkar had made his first eight runs off as many as 42 balls. He shifted gears to raise the next 42 off 48 balls. There was again that inevitable lapse into inactivity and his last 20 came off 43 balls.

Sometimes it's been because of a fall of a wicket. Most of the times though it has occurred when Tendulkar nears the end of a session or he is into the final minutes of a day's play.

Almost without a fail, his methods have hurt his and his team's cause.