There Is No Lack Of Motivation: Gambhir
Adelaide, Jan 22 : The series is out of grasp but Indian opener Gautam Gambhir said the debacle has not affected his team's motivation and it is focussed on winning the fourth and final Test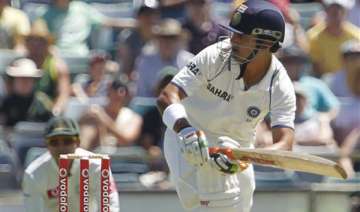 PTI
January 22, 2012 11:30 IST
Adelaide, Jan 22 : The series is out of grasp but Indian opener Gautam Gambhir said the debacle has not affected his team's motivation and it is focussed on winning the fourth and final Test to avoid a whitewash against Australia.

"Every Test is special. You have to be motivated. There is no lack of motivation. You shouldn't be playing cricket if you are not motivated," said Gambhir after the team's practice session ahead of the match starting here on Tuesday.

"The thing is, you don't get bad in one or two series.  Just two series back, we were the world's best. That's when your character comes out-you try to back each other and support each other. Back your own team when the entire squad is down," he added.

Gambhir said he puts a lot of premium on his side doing well here—more than even the elusive 100th international hundred of Sachin Tendulkar.

"It's more satisfying for me if India wins the Test than if Tendulkar scores his 100th century. When you play for the country, you want the team to win and not individuals to get records.
"The 0-3 scoreline hurts far more than Tendulkar not getting his 100.

If India can make it 1-3, it would be far satisfying than if Tendulkar gets his hundred (and India ends up still losing)."Gambhir conceded that the the Australian attack has been a cut above the rest but yearned for that one session which could turn thing around in the final Test.

"In England, there was a lot of lateral movement. Here, they had an inexperienced attack. But they have been tremendous and never let us off the hook. They always kept us under pressure, even with three seamers and a spinner," said Gambhir.

"They have kept coming at us. There were no easy runs even in the middle session. In the first session, it always does a bit but then it gets flatter. Still, credit to them, they were hitting those areas even in the middle session and not allowing us to score freely," Gambhir said.

"Indians are known to bat freely. We have a middle order who are boundary-hitters. But they never let us hit those boundaries."The left-handed opener still believed things change in international cricket quickly and his team has the wherewithal to turn around the corner.

"It's a new Test and we have to be positive. There's a month and a half of cricket still left in the series and we have to look to do well here and carry the momentum in one-dayers.

"I haven't seen the wicket but they have given us sporting wickets in this series...one good session could turn things around. We have seen it in India where we were made to follow on and went on to win the Test."

Gambhir admitted his form has been disappointing in the series and he was nervous to start with. But things have picked up lately for him."The conditions are very different. There's a lot of bounce. To start with, you are far more nervous and in anxiety poke at the ball.

"Gradually, you get the feel of bowlers and what's their game plan. I hadn't known it at the start of the series. Then you start preparing differently and work out the areas where you could score runs.

"It was disappointing initially but then after Sydney, I felt far more comfortable in first innings in Perth."The Delhi opener though has no plans to change his batting style for the series.