Tri series 2015: Ian Bell becomes England all-time leading ODI run scorer
A century in a Tri series contest against Australia Friday has made Ian Bell England's highest one-day international run-scorer.Bell has justified his elevation as an opener by hitting breezy 141 in 125 balls.His elevation was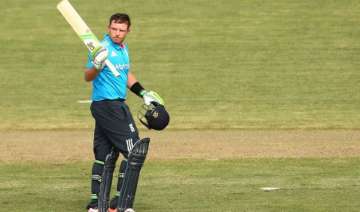 India TV Sports Desk
January 23, 2015 19:12 IST
A century in a Tri series contest against Australia Friday has made Ian Bell England's highest one-day international run-scorer.
Bell has justified his elevation as an opener by hitting breezy 141 in 125 balls.
His elevation was proposed by the England coaches and then endorsed by new captain Morgan.
His was a typically classy effort, peppered with crisp drives and exquisite placement, and took him past Paul Collingwood's previous English record of 5,092 runs.
Bell's form on tour has been largely excellent, with 187 in a warm-up match against the Prime Minister's XI and an effortless 88 not out in victory over India.
Bell's participation in the World Cup was in doubt when he was left out after two matches on Sri Lanka tour but the late switch away from Cook gave him a lifeline he has gratefully seized.
If England are going to make an impact in the World Cup then they will have to post scores of 300 plus with at least one batsman making the big century or even double hundred that are becoming common place in one-day cricket.
Bell is convinced he can deliver the goods.
'Opening the batting in those first 10 overs suits my game, certainly in these conditions when there's more bounce and you can play off the back foot or hit it over the field.