Tri-Series: Dhoni attributes lacklustre new ball bowling for India's loss
Melbourne: Indian captain Mahendra Singh today conceded that his side lost the plot in the early overs with new ball bowlers failing to make a mark in their tense four-wicket loss against Australia in their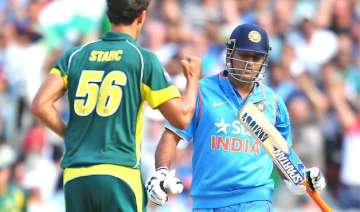 PTI
January 18, 2015 17:44 IST
Melbourne: Indian captain Mahendra Singh today conceded that his side lost the plot in the early overs with new ball bowlers failing to make a mark in their tense four-wicket loss against Australia in their cricket tri-series match here.
"It was a good match overall and Mitchell Starc (6/43) bowled really well. Rohit Sharma also played a brilliant innings. But what was crucial was bowling with the new ball. The game was just drifting till the 30th over, but we picked up at the 35th over and once we got reverse swing, we were able to put pressure," Dhoni said after Australia chased down the target of 268 with one overs to go.
Australia were cruising at 196 for two at the end of the 35th over, needing just 70-odd runs with eight wickets in hand and 15 overs left but a late fightback by the Indians gave the home side some jitters with the match going down to the penultimate over.
Dhoni said he told the players later on that the team needs to execute plans if it wants to win tournaments.
"I said I don't care about the result, just keep in mind what happened after the last huddle. That will win us tournaments. We have to keep in mind that from now on, whatever games we play we need to execute," Dhoni said.
He also said the top-order batsmen should take more responsibilty so that the bowlers have runs on the board to defend.
"All three teams are top sides and it's important for the top order to take extra responsibility and give a total our bowlers are comfortable with it," he said.
Asked what could be the defendable score generally in one-day internationals these days, Dhoni said, "A lot depends on conditions, about how the wicket is behaving, specially with drop-in wickets.
"Also the dew factor, today there wasn't any. But if it (dew) was it becomes difficult to contain and then the composition of the attack. On the higher end of 270, should be defended because the bowlers will get extra bounce and will reverse," he said.