Tribute to late cricketer Ankit Keshri at Eden Gardens
Kolkata: Board of Control for Cricket in India (BCCI) president Jagmohan Dalmiya along with Kolkata Knight Riders skipper Gautam Gambhir and former India captain Sourav Ganguly paid tribute to late Bengal cricketer Ankit Keshri here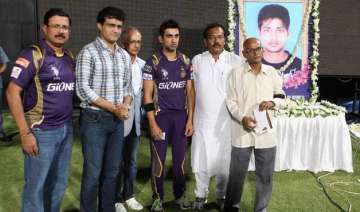 IANS
April 30, 2015 20:54 IST
Kolkata: Board of Control for Cricket in India (BCCI) president Jagmohan Dalmiya along with Kolkata Knight Riders skipper Gautam Gambhir and former India captain Sourav Ganguly paid tribute to late Bengal cricketer Ankit Keshri here on Thursday.
West Bengal youth affairs minister Aroop Biswas, KKR chief executive Venky Mysore and Chennai Super Kings (CSK) player Ishwar Pandey paid a floral tribute in front of a photo of the late cricketer in the presence of his father Raj Kumar Keshri before the start of the Indian Premier League (IPL) match between KKR and CSK at the Eden Gardens.
Both KKR and Cricket Association of Bengal (CAB) had announced that they would be donating Rs.10 lakh each to Keshri's family. Dalmiya handed over the cheques to Raj Kumar Keshri.
The home team had named Ankit as their 16th squad member for their match against Rajasthan Royals here last Sunday.
Keshri, 20, a former Bengal Under-19 captain, sustained injuries while fielding on April 17 during a CAB senior knockout match and passed away on April 20 after a massive heart attack.