Tri-Series: White, Shaun, Voges in race to replace Bailey
New Delhi: The standby batsman for Michael Clarke for the World Cup will be unveiled this week after the International Cricket Council belatedly confirmed it had suspended stand-in Australian captain George Bailey for the team's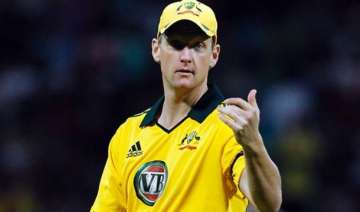 India TV Sports Desk
January 19, 2015 15:44 IST
New Delhi: The standby batsman for Michael Clarke for the World Cup will be unveiled this week after the International Cricket Council belatedly confirmed it had suspended stand-in Australian captain George Bailey for the team's slow over-rate in Sunday's win over India, clearing his slate for the marquee international tournament.
Bailey, who was on the brink of suspension following an over-rate penalty in the first one-dayer of the summer in Perth against South Africa, would miss his home match in Hobart. It is likely Steve Smith will lead the one-day team for the first time in his absence, against England at Blundstone Arena.
Australia's coach Darren Lehmann confirmed a batsman would be added to the squad in place of Bailey. He also confirmed whichever batsman was chosen would be the first choice to replace Clarke in the World Cup squad if the full-time captain did not recover from his hamstring injury by the February 21 deadline imposed by selectors.
"We'll have to work out what happens [with the ICC] in the next two days, and make some decisions there going forward to Hobart," Lehmann said. "The advantage is it gives us a look at the spare batters. We'd love to have everyone [in the World Cup squad] fit and available but we've got some niggles . . . and we've just got to make the best choices we can."
The lead candidates to replace Bailey in the squad for Hobart are the Melbourne Stars' Cameron White and Perth Scorchers duo Shaun Marsh and Adam Voges. Given the Stars and Scorchers play at the MCG on Wednesday night it is possible the chosen batsman could be withdrawn in favour of joining the squad early in Hobart.
The coach said it was "still too early to tell" if Clarke will have improved enough to feature in any of Australia's World Cup warm-up matches in the first half of February.
"The pleasing thing is he's back in the nets batting, and he can ramp it up a little bit this week," he said.
Lehmann said he was hopeful all members of the World Cup squad, excluding Clarke, would be "100 per cent fit" in time for next Monday's Australia Day one-dayer, suggesting Mitch Johnson and Mitch Marsh were on track to fully recover from their hamstring injuries.