#RainaKiShaadi: Twitter flooded with good wishes for Raina's new innings
New Delhi: One of the most eligible bachelors of the country and star cricketer Suresh Raina will begin a new chapter in his life as he gets ready to marry at a star-studded function at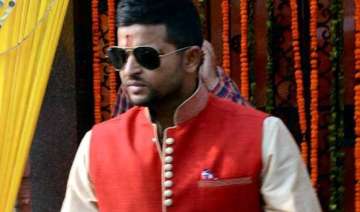 India TV Sports Desk
April 03, 2015 17:06 IST
New Delhi: One of the most eligible bachelors of the country and star cricketer Suresh Raina will begin a new chapter in his life as he gets ready to marry at a star-studded function at Delhi's The Leela Palace hotel today. His soon-to-be-wife, an Amsterdam based banker, Priyanka Chaudhary has been chosen by his family.  
The middle-order batsman has millions of fans in cricket crazy country and that is evident with the social media buzz on his wedding day. Hashtag #RainaKiShaadi has been among top trends on Twitter since morning.
Also Read: Suresh Raina to marry Priyanka Chowdhary today, PM Modi may attend function
The twitteratis have flooded the Twitter with wishes (and some jokes) on the auspicious day.
Some female fans of Raina seem to be heartbroken with the news of his marriage.
Here are a few of the tweets wishing Raina on the D-Day.
"Wishing Suresh Raina and his bride a very happy married life.. god bless the couple forever.. #RainaKiShaadi"
@BeingBhagatS "Congratulation @ImRaina Respect, care and love your wife more than your self and equal to ur parents #RainaKiShaadi God bless ur family :)"
"#CONGOS Best Couple in this World. #Raina & #Priyanka #RainaKiShaadi"
"#RainaKiShaadi my best wishes with both of them.they always live happy.God blessed them."
As usual twitteratis did not let go of the chance to joke about the occasion. Here are some of the humourous tweets.
"If Dhoni leads Raina's baraat, the baraat will take 5 hrs to cover half the distance & then reach the venue in 5 more minutes #RainaKiShaadi"
"Raina: honeymoon ke liye chennai chalege Wife: kyo? Raina: I perform best there #RainaKiShaadi"
"Raina started learnin Sanskrit so that he can defend bouncers of Pandit on marriage day #RainaKiShaadi"
India TV wishes a happy married life to Suresh Raina on this auspicious day.