Virat takes Anushka on a Cruise ride ahead of Sydney Test
Sydney: After Anushka accompanied Virat for a stroll on Sydney's iconic Darling Harbour Friday, the love birds were again spotted at a cruise 'Showboat'. The Indian cricket team was taken for a cruise ride along Sydney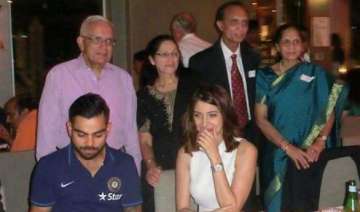 India TV Sports Desk
January 05, 2015 20:21 IST
Sydney: After Anushka accompanied Virat for a stroll on Sydney's iconic Darling Harbour Friday, the love birds were again spotted at a cruise 'Showboat'.
 
The Indian cricket team was taken for a cruise ride along Sydney Harbour by the country's High Commission where Virat was accompanied by Anushka. The High Commission also hosted a dinner for the side.
"Team India was hosted by the Indian High Commission in Sydney on Sunday evening. It was a cruise ride along the harbour on 'Showboat' with the high commissioner, Biren Nanda welcomed the team," the BCCI said in a release.
Mr. Nanda addressed the gathered contingent, praising the Indian team for the fight it has shown in the three Tests of the series against Australia so far and wished it all the best for the long tour, including the World Cup.
Captain Virat Kohli spoke on behalf of his team when he thanked the High Commission for the delightful cruise.
"We are delighted to be on this cruise. It is very different from the usual High Commission functions," he said.
"After the speeches and exchange of pleasantries, the guests were seated down for dinner. After a delightful ride of about 90 minutes, the ship docked on the harbour and the team got back to the hotel."
The above image was posted by Indian Link on their Facebook page.
Anushka has been with Virat throughout the tour and even seen sitting in the cheering him. Virat too acknowledged her support by blowing kisses after completing centuries.
Image courtsey:  www.indianlink.com.au