Waqar Younis has 'hidden agenda' against seniors: Abdul Razzaq slams Pakistan Coach
Karachi: Pakistan all-rounder Abdul Razzaq says he was not surprised at the exclusion of several players since it was part of a plan by head coach Waqar Younis to oust seniors from the national team."Waqar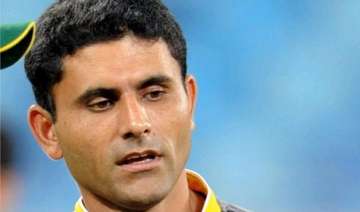 PTI
April 06, 2015 7:37 IST
Karachi: Pakistan all-rounder Abdul Razzaq says he was not surprised at the exclusion of several players since it was part of a plan by head coach Waqar Younis to oust seniors from the national team.
"Waqar Younis has some sort of hidden agenda against senior players and whenever he has been appointed coach he has shunted them out and tried to destroy their careers," Razzaq said in an interview.
"When he first became coach in 2011, he targeted me and Muhammad Yousuf and the latter never played for Pakistan again even though he could have carried on for a few more years. Shoaib Akhtar also had to retire in his previous tenure," Razzaq noted.
The seasoned all-rounder who has not played for Pakistan since the World T20 in 2012 said even in 2011 Waqar played an instrumental role in ousting Shahid Afridi from the team which led to him being stripped of the captaincy as well.
"Since then we have not progressed in limited overs cricket particularly ODIs and I blame Misbah-ul-Haq for this. People look at his performances to defend him but the truth is he has totally changed the mindset of our players to being fearful and slow and even the new players are affected by this new culture."
Razzaq said Waqar was now targeting more senior players and said instead of trying to manage talented batsmen like Ahmed Shehzad and Umar Akmal properly he had recommended them to be dropped from the team.
"I am sorry to say this but Waqar was a great bowler but as a manager his management skills are very poor and this is because of his agenda against seniors and his refusal to change with times."
Razzaq said despite the selectors continuously ignoring him he had no intentions to retire.
Razzaq, 35, remains one of Pakistan's top all-rounders and in 265 ODIs he managed to score 5080 runs and also take 269 wickets.
"After what happened in the World Cup I think Pakistan needs to change its approach to one-day cricket and we need to produce more power hitters and genuine all-rounders. Unless we change the balance and mindsets of our one-day players Pakistan will continue to lag in the ODI rankings," he said.
Razzaq also said that the ban on Pakistani players taking part in the Indian Premier League was also hurting their development as good limited overs cricket players.
"Players from other countries have taken advantage of the IPL but unfortunately Pakistani players are missing out for not fault of their own," he noted.