We Can Equalise Series In Mumbai: Sangakkara
Sri Lanka captain Kumar Sangakkara conceded Muttiah Muralitharan's slump in form has become a worry for the team but sounded confident of squaring the three-match series when they take on India in the final Test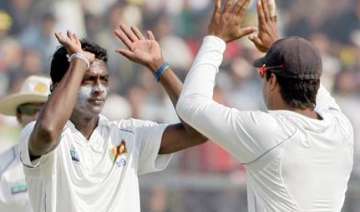 PTI
November 27, 2009 17:03 IST
Sri Lanka captain Kumar Sangakkara conceded Muttiah Muralitharan's slump in form has become a worry for the team but sounded confident of squaring the three-match series when they take on India in the final Test in Mumbai.
"We still have got a lot to achieve in Mumbai," an optimistic Sangakkara told reporters after his team crashed to their heaviest defeat against India in the second Test in   Kanpur.
 
"We can still draw the series 1-1. So there is great motivation for us. Disappointed (at losing the second Test)? Yes. But you have to take responsibility and move ahead," the Lankan skipper said.
It, however, sounds easier said than done and Sri Lanka have been especially let down by Muralitharan's performance even if he had to operate on pitches that were largely unresponsive.
Sangakkara said it was indeed a worry but the offie was good enough to bounce back. PTI