WICB seeks ICC help to resolve dispute with BCCI
New Delhi: The West Indies Cricket Board President Dave Cameroon on Tuesday met with some of the directors of ICC and sought their intervention in resolving the issue with BCCI over the damages caused by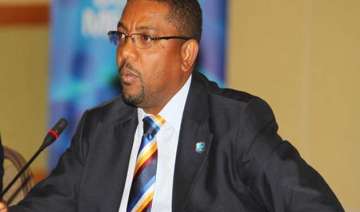 India TV Sports Desk
January 28, 2015 14:39 IST
New Delhi: The West Indies Cricket Board President Dave Cameroon on Tuesday met with some of the directors of ICC and sought their intervention in resolving the issue with BCCI over the damages caused by the abandoned tour last year.
BCCI on January 20 gave a deadline of seven days to WICB demanding  USD 41.97 million as damages caused by the tour abandoned in mid-October. The Indian board also threatened of a legal action against them in Indian court.
Cameron was in Dubai over the weekend attending a meeting of the ICC.
In a press release WICB said they communicated intent to the Board of Control for Cricket in India (BCCI) to find a workable solution for the premature end of the tour and also urged to sort the issue through a bilateral discussion or a third-party mediation over the next two months.
BCCI Secretary Sanjay Patel had pointed out that the BCCI had been lenient and even allowed a 40-day grace period at the request of Caribbean Community and Common Market (CARICOM), and stated that there had been no progress in finding a solution acceptable to the BCCI.
Former West Indies Players Association (WIPA) president Dinanath Ramnarine yesterday expressed serious doubt about whether this WICB plan would suffice and says it reflects on the poor leadership of Cameron.
He continued, "My info is as long as Cameron remains 'Pres' WICB, the BCCI will not let up and it does not matter how much he begs. If he goes we have a chance."