Will be keen to remain as calm as Dhoni: Kohli
Sydney: Still coming to terms with Mahendra Singh Dhoni's shock retirement, new Indian captain Virat Kohli today said he is keen to emulate his predecessor by staying calm in tough situations when he leads the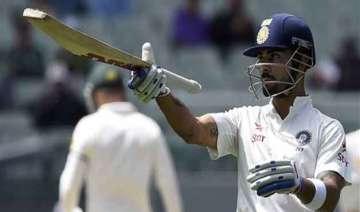 PTI
January 05, 2015 13:19 IST
Sydney: Still coming to terms with Mahendra Singh Dhoni's shock retirement, new Indian captain Virat Kohli today said he is keen to emulate his predecessor by staying calm in tough situations when he leads the side out in the fourth and final cricket Test against Australia starting here tomorrow.
"We were changing and packing up in the dressing room after the Melbourne Test and Dhoni came in and said he wanted to say something. He then announced his decision and we were all taken aback. It was so sudden, totally out of the blue. We didn't see it coming and it was shocking at that point for us.
"We didn't know what to say because it was a very emotional moment for him. For us too, who as youngsters had started under his captaincy, it was a very strange moment," said Kohli about Dhoni's Test retirement announcement.
"There is so much to learn from him especially in tough situations, his composure and his decision making at important times. These things are priceless and any captain would love to have them. I hope I can be as calm as him," he added, while paying rich tribute to his predecessor.
Kohli, who was stand-in-captain in the first Test at the Adelaide Oval with Dhoni nursing a finger injury, struck two centuries to scare the hosts only to lose the match by 48 runs but the top-order batsman is ready to learn from his mistakes.
"There were quite a few things from Adelaide that I sat down and analysed which can be improved upon. I have thought about what are the things that I can correct, the mistakes I made in that game. Hopefully I'll try to make the right decisions in every situation out there in the middle," said Kohli reflecting on his experience thus far.
"I don't think there needs to be a major change in our approach. The message was plain and simple in Adelaide - go out there, back yourself, express yourself, play positively and play to win. So, there's nothing special I need to say again to the boys because everyone is on the same page and you have seen it with the way we have played in this series.
"We have always looked to be positive. What we could have done better is win those important moments and that's something I think we need to improve as a Test team," he added.