Will try to improve IPL, says Rajeev Shukla
New Delhi: Former Union Minister Rajeev Shukla, who was on Monday re-appointed chairman of the powerful IPL Governing Council, said his priority will be to try and bring about an improvement and further enhance the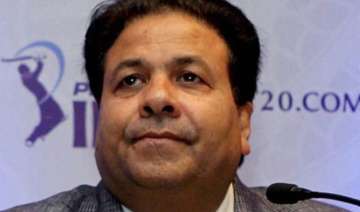 PTI
April 06, 2015 20:21 IST
New Delhi: Former Union Minister Rajeev Shukla, who was on Monday re-appointed chairman of the powerful IPL Governing Council, said his priority will be to try and bring about an improvement and further enhance the glory of the IPL.
"It is an honour to be given this responsibility. It is a world class tournament with a huge reach overseas. I will try my level best to further enhance the glory of IPL", Shukla told PTI here.
"I am grateful to the BCCI leadership for entrusting this job to me. With my past experience as IPL chairman, whatever improvement is required, I will try to do it," he said.
Shukla was the IPL chairman till 2013 when he resigned from the post in the aftermath of the IPL 'spot-fixing' scandal.
After intense speculation over who will take charge of the league with former Indian captain Sourav Ganguly, Ajay Shirke and Ranjib Biswal being the others in the fray, Shukla ultimately emerged as a consensus candidate. Shukla's appointment came just one day before the opening ceremony of the IPL 8 in Kolkata.