World Cup 2015: ICC allows the use of controversial DRS
New Delhi: Controversial  Decision Review System (DRS) will be used during the ICC World Cup 2015. During its two-day meeting in Dubai, the ICC confirmed that the DRS would be used in all 49 matches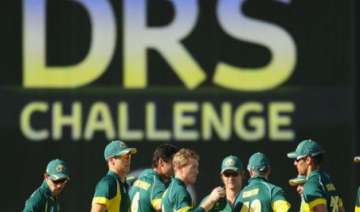 India TV Sports Desk
January 29, 2015 14:33 IST
New Delhi: Controversial  Decision Review System (DRS) will be used during the ICC World Cup 2015. During its two-day meeting in Dubai, the ICC confirmed that the DRS would be used in all 49 matches played during the mega event in Australia and New Zealand.
Indian Cricket Board (BCCI) has always opposed the DRS because of the inaccuracy of the system and the limitations of the technology used in reviewing decisions.
The system was officially used for the first time when New Zealand hosted Pakistan in a Test series in 2009.  It was also used during the previous World Cup held in the sub-continents and was a success. But had a controversy over the dismissal of Ian Bell during England's Match in the World Cup.
It is also used in other sports like Lawn Tennis. DRS have seen amendments made, especially regarding the LBW verdicts.
In other important decisions, ICC has decided to reinstate Super Over to decide the winner of the tournament in an event of a tied final match.
ICC, in a two day meeting in Dubai confirmed DRS will be part of the World Cup 2015 after a reasonable success in the previous edition.
The other conditions decided for the World Cup are
1. Reserve days will be available only during the knock-out phase.
2. In case of a tie in the knockout stage, the teams with higher position in the group stage will progress to the next round.
3. Captains will not carry any prior minor over-rate offence 'strikes' or over-rate suspensions from other series into an ICC event.
The marquee tournament begins on February 14 with the final to be played on March 29 in Melbourne.