World Cup 2015: Pakistan asked to play hard cricket against India
World Cup is round the corner and for cricket fans of India and Pakistan the clash between the two arch rival is no less than a final. These two teams will clash on 14 February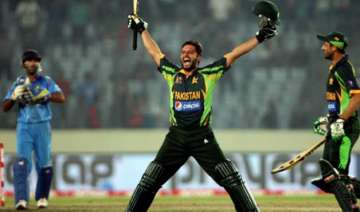 India TV Sports Desk
January 22, 2015 12:56 IST
World Cup is round the corner and for cricket fans of India and Pakistan the clash between the two arch rival is no less than a final. These two teams will clash on 14 February next month.
Considering the excitement and the emotional importance usually attached to Indo-Pak clash, Pakistan Cricket Board has the players to play hard cricket against India but in the highest sporting spirit.
The players have been strictly grilled to avoid chatter or gestures which could cause tensions between the two teams or the crowd.
The Pakistan and India match is a showpiece game of the World Cup and the entire world will be watching it so the players have been told to play fair and hard cricket to try to win the match but not to exceed limits.
Pakistan has never beaten India in the last five World Cup and even in T20 World Cup India has remained unbeaten as far as Pakistan is concerned.