World Cup: Pakistan Vs India is the mother of all games: Javed Miandad
According to great pakistani batsman Javed Miandad no cricketing contest can ever match the thrill and excitement of what a Pakistan versus India contest offers — it is the mother of all games."Whether it's a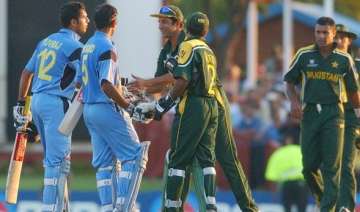 India TV Sports Desk
January 16, 2015 13:57 IST
According to great pakistani batsman Javed Miandad no cricketing contest can ever match the thrill and excitement of what a Pakistan versus India contest offers — it is the mother of all games.
"Whether it's a one-sided affair or a nail-biting finish, people from both countries get involved so much that sometimes it is just not cricket! Whenever or wherever we play against each other, fans from all age groups in our two cricket-mad countries forget their Things to Do. They simply get glued to their TV sets or watch the action on giant screens in a hope that only their team would win," says Miandad.
The lucky ones have the tickets to the Adelaide Oval for the absorbing contest, which is now just 29 days away. It was the first match of the mega event which got sold out within hours of the tickets going up for sale on Feb 14, 2014.
Miandad, member of victorious 1992 World Cup, thinks the International Cricket Council (ICC) did the right thing to showcase this iconic game early in the World Cup as it will take off some pressure from both the sides and they will concentrate more on their remaining pool matches.
The crafty batsman adds whoever wins in Adelaide, fans should treat it as a loss on sporting field and nothing else.
"I would like to see the Pakistan versus India rivalry more on the cricketing field and the only way going forward is by improving our cricketing relations – both on and off the field."
While it's tough to pick winners of the Feb 15 encounter, Pakistan's loss of Umar Gul and Saeed Ajmal through injuries and suspension, respectively, is a huge setback.
Considering the depth in India's batting line-up with the likes of Rohit Sharma, Shikhar Dhawan, Virat Kohli, Suresh Raina, Ajinkya Rahane and Mahendra Singh Dhoni, their big batting pillars, Umar and Saeed could have been proved handy for Pakistan. Without these two, I can now only hope that Mohammad Hafeez clears his retest as Pakistan need experienced bowlers against what is sure to be a highly-exciting Indian batting line-up.
In the end, one team have to win and the other have to finish on the losing side. There should be no hard feelings. I have been part of a number of India-Pakistan matches played with tremendous intensity and emotions. As a professional cricketer, I believe your country should always come first. Nobody likes to lose, but if you don't lose, it won't make you a better player.
Neigbours will always remain neigbours and by playing against each other in tournaments like the ICC World Cup, we can help make our relationship even stronger. Sport is an ideal tool to unite people. Everything else will fall in place if we play against each other more often with lots of sportsmanship.