World T20: WI don't know how to rotate strike against spinners: Raina
Mirpur: India's Suresh Raina says that most of the top-order West Indies batsmen prefer playing big shots rather than rotating strike against spinners, an area which he feels can be exploited by Amit Mishra and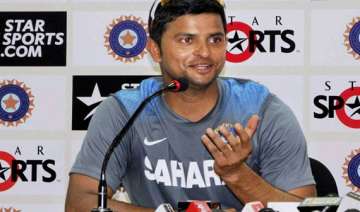 PTI
March 22, 2014 16:11 IST
Mirpur:
India's Suresh Raina says that most of the top-order West Indies batsmen prefer playing big shots rather than rotating strike against spinners, an area which he feels can be exploited by Amit Mishra and Co when the two teams square off in the ICC World T20 here tomorrow.
Asked about the threat the explosive opening pair of Chris Gayle and Dwayne Smith could pose, Raina said, "West Indies will be a totally different team as they have a lot of players who can hit sixes but they don't have an idea about how to rotate the strike against spinners by taking singles and twos.
"Therefore, the more pressure we put on the bigger players, better it will be for us."
The in-form left hander said that Amit Mishra's bowling will again be key while countering the likes of Gayle, Smith and Samuels.
"We have Mishra, who has done well in the last match.  Ashwin has also bowled well and Jadeja is doing well too. But T20 is dependant on who is better on that particular day.
"Also depends on what you intend to do after winning the toss. Spinners will be key in this contest. Especially in the manner, we bowled against Pakistan, which plays spin really well."
Elaborating on the role of tweakers, Raina said that overs 7-11 will be key against the slower bowlers.
"About facing spinners, it's not that there is great turn (on this track) but some turn available. While shaping up for a shot, you need to come under the ball.
"Your thought-process should be clear. If you think you want to hit it then you should go ahead and if you decide against it then be it. Between 7 to 11 overs, is the time when you need to rotate the strike well. If you get even one loose ball, if you can convert it into fours and sixes, then it's good."
For shorter formats, Raina wants that batsmen should try to achieve smaller targets.
"Definitely, Pakistan had Ajmal, West Indies has Narine.  In these shorter formats, you have to plan for two overs. You need to decide whom to attack and whom to defend. We have good middle-order. We have Dhoni, Yuvraj and then Jadeja and Ashwin. So if we get a good start, we have batsmen down the order."