IPL 8: Yuvraj hints at Zaheer's inclusion against Kings XI Punjab
New Delhi: Still non-committal about Zaheer Khan's first season appearance for Delhi Daredevils, Yuvraj Singh has hinted at the left-arm pacer's inclusion in the playing XI during the team's last home encounter against Kings XI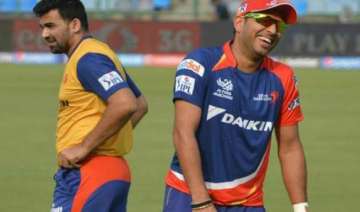 PTI
April 30, 2015 21:46 IST
New Delhi: Still non-committal about Zaheer Khan's first season appearance for Delhi Daredevils, Yuvraj Singh has hinted at the left-arm pacer's inclusion in the playing XI during the team's last home encounter against Kings XI Punjab in IPL Cricket tournament, here on Friday. 
Zaheer, who was bought by the GMR-owned unit for Rs 4 crore, hasn't played a single game for DD due to a hamstring injury. Yuvraj though is positive about his former India teammate's return to the IPL field after the left-arm pacer played his last game for Mumbai Indians on May 3 last year. 
"I don't know about the team selection, but I think he is playing tomorrow. You have to ask the coach (Gary Kirsten) and captain (Jean-Paul Duminy) about this but I think he is starting tomorrow," Yuvraj told mediapersons at the eve of their eight match of the cash-rich league. 
DD have had an inconsistent run in the T20 league so far, winning just 3 of the 7 matches, but Yuvraj believes the Jean-Paul Duminy-led side has played good cricket. 
"I think we won two games in a row, we lost one and then won a game and then lost another one. It's not that we are losing games in a row. We are winning and losing. T20 is a very unpredictable format, anything can happen on a day. But the point is that we need to win few more games consistently to qualify for the last four. 
"I am sure we have the guys to do that and we just need two-three special performances in the next four games. We have had good wins and lost a few bad games, so we just need to fight till the end and try and win some games," said the left-hand batsman. 
Coming at the back a decent domestic season for Punjab, Yuvraj, who has been the season's costliest buy for 16 crores, hasn't had the best of times with the bat, 124 runs in 7 matches. The southpaw though is not too worried. 
"It's not easy because at times in domestic level at times you don't play the quality of international bowlers, so at times it's hard to come in and adjust quickly. I am trying to give any excuses but T20 is a different form of domestic season, you hardly get time to get set and play your game. But that's the nature of T20 cricket," he said.