Junior Hockey World Cup: India to clash with Australia in semifinals today
In Hockey, India will take on Australia in the semifinals of Men's Junior World Cup, scheduled to begin at 6 PM in Lucknow. Indian Colts made it to the semifinals last evening after beating Spain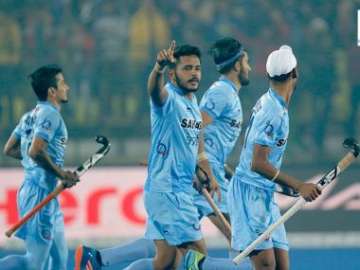 India TV Sports Desk
Lucknow
December 16, 2016 11:50 IST
In Hockey, India will take on Australia in the semifinals of Men's Junior World Cup, scheduled to begin at 6 PM in Lucknow.
Indian Colts made it to the semifinals last evening after beating Spain 2-1. By virtue of this win, the Indian colts not only continued their domination over Spain but also managed to avenge their loss against the same opponents in the bronze medal match of the 2005 edition of the World Cup in Rotterdam.
While in the quarterfinals, Australia defeated the Netherlands 2-1 to reach the last-4 stage. The home side has been in a terrific form, as they remain unbeaten from group stage. 
Termed as favourites, India last won the trophy way back in 2001. In the other semifinals played today, Belgium will face Germany.