Argentina Qualifies For Men's Hockey World Cup
Argentinean men's hockey team defeated Belgium 4-3 to earn a slot in the World Cup to be held in New Delhi next year. Elsewhere, Pakistan and New Zealand also won tickets with wins in qualifying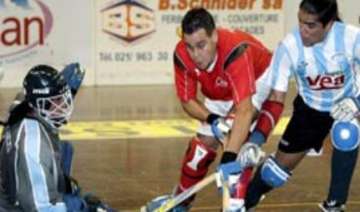 PTI
November 23, 2009 16:06 IST
Argentinean men's hockey team defeated Belgium 4-3 to earn a slot in the World Cup to be held in New Delhi next year.
Elsewhere, Pakistan and New Zealand also won tickets with wins in qualifying matches.
The other teams to compete in the World Cup are host India, Canada, South Korea, South Africa, Australia, England, Germany, the Netherlands and Spain.