Not bad to learn hockey on non-synthetic surface: Bovelander
Mumbai: Dutch hockey legends Floris Jan Bovelander and Teun de Nooijer do not see learning the rudiments of the game on non-synthetic turf as an impediment to the growth of a player in later years."You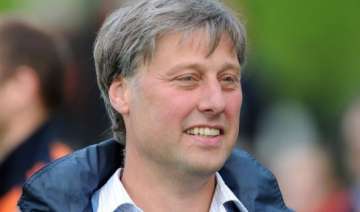 PTI
January 22, 2015 21:28 IST
Mumbai: Dutch hockey legends Floris Jan Bovelander and Teun de Nooijer do not see learning the rudiments of the game on non-synthetic turf as an impediment to the growth of a player in later years.
"You can start to learn hockey on any type of pitch. I don't see it as a big problem. Later on, yes, you have to learn to play on an artificial surface," said Bovelander, a former penalty corner specialist, today.
 
He was addressing a media conference called to announce the tie-up between Dutch club FC Bloemendaal and Hockey Indian League (HIL) franchise Dabang Mumbai.
Former midfielder Nooijer went a step further and said it was prudent to learn to play the game on not only synthetic turf but on various other surfaces like natural grass.
"To add further to what Floris said, I feel a player should learn the basics on different surfaces which improves his skills as it's harder to play on natural grass or another non-artificial surface," said the 38-year-old two-time Olympic champion and three-time FIH Player of the Year awardee.
Bovelander, 11 years older to his Atlanta Olympics gold medal winning teammate Nooijer and six-time national champion with FC Bloemendaal, hailed the tie-up which will see Indian coaches being trained by the 13-time Dutch champion club.
"We cannot be here the whole year but nowadays it's possible to connect through technology from anywhere in the world. We are here to coach the coaches," said the three-time Olympian and scorer of 215 goals from 241 internationals representing The Netherlands.
"I hope we can bring Indian hockey back to the level where it should be," said the Dutch great and successor to another penalty corner legend, Paul Litjens.
Dabang Mumbai's mentor and former India captain Viren Rasquinha said as part of the partnership, the Dutch legends would come down to the city to impart knowledge to the coaches and conduct hockey clinics twice a year - during summer and Diwali vacations - for schools in Mumbai, Goa and Gujarat - the franchise's catchment area.