Delhi Waveriders take on Uttar Pradesh Wizards in HHIL
Lucknow: Delhi Waveriders will look to launch their title defence on a positive note against hosts Uttar Pradesh Wizards in their opening match of the third Hero Hockey India League, here tomorrow.The last time both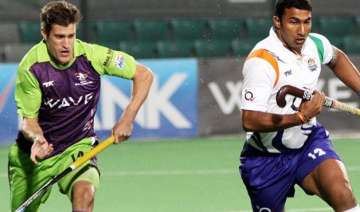 PTI
January 22, 2015 21:19 IST
Lucknow: Delhi Waveriders will look to launch their title defence on a positive note against hosts Uttar Pradesh Wizards in their opening match of the third Hero Hockey India League, here tomorrow.
The last time both the teams met, it was the semi-finals of the second edition of the HHIL where Delhi got the better off the Wizards and the hosts will be eagar to pay them back tomorrow.
With the Lucknow crowd cheering and backing their team to go for the kill, Uttar Pradesh Wizards will be fancing their chances tomorrow.
Beefed by the addition of Goalkeeper PR Sreejesh, Oltmans coached team has in place a strong defence line-up with the likes of Raghunath, Marcel Balkestein, Wouter Jolie and Harbir Singh.
Also with the mid-field position getting strengthened by the addition of Bob De Voogd of Netherlands and Shea McAleese of New Zealand, the UP Wizards team looks a formidable line-up which every other team should be weary of.
On the other side, Delhi will be looking at living upto their defending champions tag. The inclusion of defender Andrew Hayward of New Zealand has strengthened the current defence line-up which boosts of names like Rupinder Pal Singh, Steven Edwards of New Zealand and Andres Mir Bel of Spain.
Delhi will be looking at Yuvraj Walmiki, who was leading the field goal table in the last edition wherein he struck 5 field goals, to earn them the field goals. The team would also be looking at Rupinder Pal Singh to convert the penalty corners for the team.
Captain Raghunath had converted eight important penalty corners in the last edition and he would be aiming at continuing his form in the upcoming edition.
Speaking on the match tomorrow, Delhi Waveriders captain Sardar Singh said, "In the last two editions of the League, the team has been performing exceptionally well. In this season too we are looking forward to a good start of the league by winning the first match as it will boost the confidence and morale of the team.