HIL 2015: Confident Ranchi Rays set to host Delhi Waveriders
Ranchi: Post their electrifying win over Dabang Mumbai, Ranchi Rays look to be finding their form as they take on Delhi Waveriders in the ongoing 3rd edition of the Hero Hockey India League, here Monday.The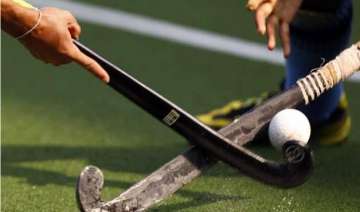 PTI
January 25, 2015 17:35 IST
Ranchi: Post their electrifying win over Dabang Mumbai, Ranchi Rays look to be finding their form as they take on Delhi Waveriders in the ongoing 3rd edition of the Hero Hockey India League, here Monday.
The Sardar Singh-led Waveriders, who held Uttar Pradesh Wizards on their home turf in Lucknow, are also looking confident of stamping its authority in the league.
 
With both the teams looking at a win tomorrow it will yet again be an exciting HIL clash as the league has seen an intense battle brewing up between the competing teams.
Post losing their inaugural match against Kalinga Lancers, Ranchi Rays struck gold against Dabang Mumbai yesterday. Trailing by 0-1 in the third quarter, Ranchi Rays came back strong by winning the match 2-1 leaving the hosts stunned.
What turned the tables in their favour were Barry's stunning field goals which gave no chance to Dabang Mumbai's David Harte to stop the ball going past him.
With a win in their kitty, Ashley Jackson's team would look at registering their second win against the defending champions.
On the other hand with a draw in their game against Uttar Pradesh Wizards, Sardar and team are still looking to open their winning account.
Delhi are conscious that their defence has to come out good to stop Barry Middleton, Manpreet Singh and Ashley Jackson's seamless coordination and the ability to get past the opponents' defence and score goals.
Speaking on the match tomorrow Sardar said, "Our team is improving very well under our Head Coach Cedric D'Souza and we will step on the field for tomorrow's match with a positive mindset.
"The pre-HIL coaching camp was very helpful for us and we have got enough time to build up our team. We worked on various strategies in the camp and planned few things for all the upcoming matches. We are looking forward to tomorrow's match and finish the game on a winning conclusion."
Speaking on the clash tomorrow Waveriders head coach Cedric D'Souza said, "After our last match draw against UP Wizards, we are in better shape and have improved from our previous game. We are ready for tomorrow's match and we will play our natural game keeping few strategies in our mind.
"We have worked on a number of things in practice session and as all the teams have the best players, we are not taking any team lightly. The crowd here is very passionate about hockey and I am looking forward for Monday's match in front of a cheering crowd.