Korea knock Pakistan out of World Cup hockey
Ipoh (Malaysia): Pakistan, a regular in the Hockey World Cup since its inception in 1971, will not be present for the 13th edition in The Netherlands next year. Defending champions South Korea ended the Pakistan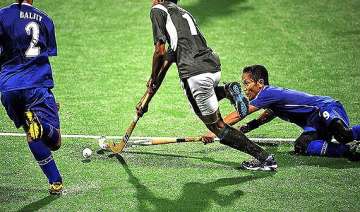 IANS
August 30, 2013 20:55 IST
Ipoh (Malaysia):
Pakistan, a regular in the Hockey World Cup since its inception in 1971, will not be present for the 13th edition in The Netherlands next year. Defending champions South Korea ended the Pakistan dream with a 2-1 win in the semi-finals of the Asia Cup at the Azlan Shah Stadium here Friday.
Two well-taken penalty corners by the Koreans did the trick in a pulsating match where Pakistan needed nothing short of a win.
The four-time World Champions have been knocked out and that means India have now qualified for the competition in Holland along with Korea and Malaysia. But they will have to wait for a final confirmation from the world body FIH, unless they make the final and win it.
The Pakistanis won the World Cup in 1971, 1973, 1978 and 1994.
Pakistan needed to win and make the final, as they could only qualify for the World Cup by winning the Asia Cup.
The Koreans, on the other hand, did not have any pressure as they have already booked their World Cup berth.
Thus it was not surprising that both teams started off cautiously and play was centred on the midfield. Pakistan had two penalty corner attempts in the first half but both times their executions failed them.
The South Koreans, who were also hoping to capitalise on a quick counter attack, did just that when they earned their first penalty corner in the 32nd minute.
The first attempt taken by Jang Jong-hyun didn't work out as they Koreans went for a variation. Fortunately for them the ball hit a Pakistan player and a second corner was given.
This time Jang made no mistake with his drag flick as he scored on the right side of goalkeeper Salman Akbar.
The second half saw action from end to end and neither side let up on their play. The pace was also fast and the tempo increased with each passing minute.
The Koreans increased their lead within five minutes of the second half. Lee Nam-young took their fourth penalty corner attempt and scored. He was named man-of-the-match after his goal turned into the match winner.
Pakistan tried to salvage the game when they scored in the 46th minute through a Muhammad Imran drag flick off a penalty corner.
But the shutters came down as the Koreans defended in numbers to keep the score intact. And in the end Pakistan's World Cup dream went up in smoke.