National Women's Junior Hockey: Chhattisgarh, Kerala storm into final
Mysore: Chhattisgarh and Kerala stormed into the finals of 4th Hockey India Junior Women National Championship 2014 (Division B) played here at Chamundi Vihar Hockey Ground  on Wednesday.  In the first semi finals, Chhattisgarh defeated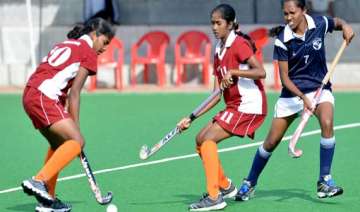 India TV Sports Desk
March 12, 2014 21:44 IST
Mysore:
Chhattisgarh and Kerala stormed into the finals of 4th Hockey India Junior Women National Championship 2014 (Division B) played here at Chamundi Vihar Hockey Ground  on Wednesday.  
In the first semi finals, Chhattisgarh defeated Manipur 4 -0.
Ishika Chaudhary scored the first goal for Chhattisgarh in the eighth minute, while Priyanka Parihar scored the second one in the 34th minute by converting a penalty corner.
In the second half, Akanksha Parmar and Sadhna Sengar scored a goal each in the 38th and 65th minute respectively.
Manipur girls tried hard to reduce the lead but failed.
Chhattisgarh coach Inder Pal singh said, the team played according to plan, but missed several chances to score.  He hoped the team would defeat Kerala in the final.
In the second semifinal, Kerala shocked Gangpur Odisha by beating them 2-0.
Sindhu M R scored the first goal in the 26th minute, while in the 68th minute Amala Thomas scored a beautiful goal and took her team into the final.