RSPB, Odisha, Haryana, MPHA win in Sr Women's Hockey Nationals
Saifai (Uttar Pradesh):  Railway Sports Promotion Board (RSPB), Hockey Odisha, Hockey Haryana and Madhya Pradesh Hockey Academy (MPHA) emerged winners in their respective pool matches at the fifth Senior Women National Championship 2015 - Div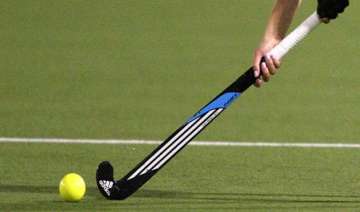 PTI
April 29, 2015 19:44 IST
Saifai (Uttar Pradesh):  Railway Sports Promotion Board (RSPB), Hockey Odisha, Hockey Haryana and Madhya Pradesh Hockey Academy (MPHA) emerged winners in their respective pool matches at the fifth Senior Women National Championship 2015 - Div A, here today.
While RSPB thrashed Delhi Hockey 11-0, Hockey Odisha outplayed Hockey Maharashtra 5-0 in Pool A matches.
Later in the day in Pool B, Hockey Haryana spanked Hockey Himachal 14-0 while MPHA beat Sports Authority of India (SAI) 4-2.
In tomorrow scheduled matches, Hockey Jharkhand will play Uttar Pradesh Hockey while Hockey Karnataka will face Assam Hockey in Pool C.
In Pool B, Hockey Punjab will be up against The Mumbai Hockey Association Ltd, while Hockey Bhopal will take on Kerala Hockey.