Sardar Singh wants to make Indian hockey more enjoyable in 2015
New Delhi: As part of his new year resolution, Indian hockey captain Sardar Singh, who led the team to an Asian Games gold medal after a gap of 16 years and a silver medal in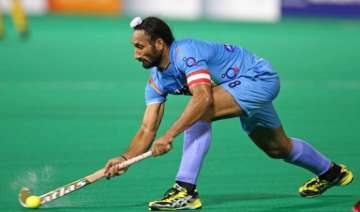 PTI
January 01, 2015 11:18 IST
New Delhi: As part of his new year resolution, Indian hockey captain Sardar Singh, who led the team to an Asian Games gold medal after a gap of 16 years and a silver medal in the Commonwealth Games this year, has vowed to make the national sport more enjoyable to watch in 2015.
"My resolution (for 2015) is to maintain and improve my skills to help me be more beneficial to my teammates on the field," the veteran centre-half said in an International Hockey Federation (FIH) release.
"I want to make hockey, and Indian team's performance in particular, even more enjoyable to watch," said the 29-year-old player.
Sardar, who had led Delhi Waveriders to victory in the 2014 edition of the Hero Hockey India League, is once again all set to replicate the team's last season's performance.
The upcoming HIL is scheduled to commence on January 22 in Bhubaneswar.