Amidst the glory and accolade for Dangal, not everyone is happy
Ex-wrestling coach PR Sondhi who trained the Phogat sisters for the 2010 Commonwealth Games is unhappy with how the coach of the two girls in the movie is portrayed almost a villain. Dangal which is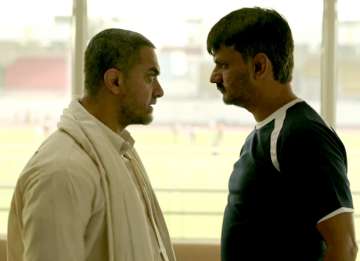 India TV Sports Desk
New Delhi
December 28, 2016 19:02 IST
Ex-wrestling coach PR Sondhi who trained the Phogat sisters for the 2010 Commonwealth Games is unhappy with how the coach of the two girls in the movie is portrayed almost a villain.
Dangal which is based on the real life stories of wrestler Mahavir Phogat, and his two daughters Geeta and Babita Phogat, had taken some cinematic liberties to distort the facts in some areas.
In one such instance in the film where,  on instructions from the coach, Mahavir is locked up so that he was unable to see Geeta win the Gold. This scene in particular has tarnished the reputation of PR Sondhi, or thus is his claim.
"They have changed the name to PR Kadam in the film, but somewhere the character is loosely based  on my life.I have known Mahavirji for many years and he is a thorough gentleman. His two daughters have trained under me for more than three years and not once did he interfere" he said.
PR Sondhi also questions that why was he targeted when there were four other coaches involved in the training of Geeta and Babita, and said that such a distortion of facts had hurt his image. The coach said that he will take up the topic with Aamir once they meet.