7 feet tall Poonam leads Chhattisgarh to victory
Mumbai: Standing tall at 7 feet, hoopster Poonam Chatruvedi played a stellar role in shaping Chhattisgarh's success over defending champions Southern Railway in the women's final of the Rs 5 lakh prize fund 10th Savio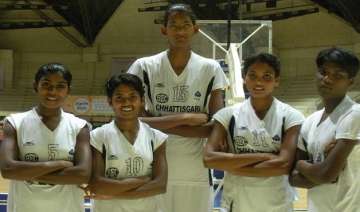 PTI
January 18, 2015 21:24 IST
Mumbai: Standing tall at 7 feet, hoopster Poonam Chatruvedi played a stellar role in shaping Chhattisgarh's success over defending champions Southern Railway in the women's final of the Rs 5 lakh prize fund 10th Savio Cup All-India Basketball Tournament here today.
National champions Chhattisgarh took time to get off the blocks and trailed 29-33 at the end of the first two quarters.
But with Poonam putting good use of her height and gigantic frame to advantage, Chhattisgarh turned things around in the third and fourth quarters and managed to clinch a deserving victory.
The gangling Poonam was not very consistent, but still finished as the leading scorer from both sides with an impressive 35 points which was half the total number of points the teams scored.
Another player, who was outstanding for Chhattisgarh was Saranjeet Kaur who scored 16 points. For the losing team, Sonia Joy and Raja Priyadarshani contributed 22 and 19 points respectively.
Results - Women's final: Chhattisgarh 71 (Poonam Chaturvedi 35, Saranjeet Kaur 16) beat Southern Railway 63 (Sonia Joy 22, Raja Priyadarshani 19). Half-time: 29-33.