Anand draws with Vachier-Lagrave in Shamkir Chess tournament
Shamkir (Azerbaijan): Five-time world champion Viswanathan Anand played out his second straight draw in the Shamkir Chess tournament, signing peace with Maxime Vachier-Lagrave of France quite easily with black pieces in the second round here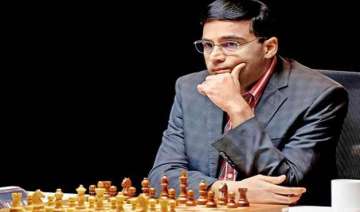 PTI
April 18, 2015 21:13 IST
Shamkir (Azerbaijan): Five-time world champion Viswanathan Anand played out his second straight draw in the Shamkir Chess tournament, signing peace with Maxime Vachier-Lagrave of France quite easily with black pieces in the second round here on Saturday. 
After letting reigning world champion Magnus Carlsen of Norway off the hook in the first round yesterday, Anand had little difficulty with his black pieces as Vachier-Lagrave failed to find anything worthwhile. Anand took his tally to one point out of a possible two as a result. 
Carlsen, meanwhile, got into the groove pretty quickly and put it across overnight joint leader Shakhriyar Mamedyarov of Azerbaijan. The Norwegian was lethal in his brilliant attack on the queen side and Mamedyarov caved in quite early. 
Wesley So of United States played out a draw with Vladimir Kramnik of Russia while Michael Adams of England achieved the same result against world number two Fabiano Caruana of Italy. In the only other game of this ten-player round robin tournament, Dutch Grandmaster Anish Giri was still fighting it out against Rauf Mamedov of Azerbaijan. 
With seven rounds still to come in the 100000 Euros prize money tournament, Carlsen emerged as the new co-leader along side Wesley So and these two have 1.5 points apiece. Anand, Kramni k, Adams, Vachier-Lagrave and Mamedyarov follow the two leaders a half point behind while Caruana opened his account with his first draw. 
Anand's new found love in the Ragozin variation of the Queen's gambit declined has been serving him well in the recent past and the Indian ace stuck to it looking for some complications despite playing with black pieces. 
Vachier-Lagrave did not go for wild variations as they have been thoroughly analysed and went for attaining a miniscule advantage instead. Anand showed fine skills while tackling the position and strategically exchanged his pieces at regular intervals to reach a perfect balance in the ensuing endgame. The Frenchman could do no better than force the draw in 47 moves.