Top Indian shooters stranded in Bangkok airport due to 'flying with arms'
Bengaluru:  The incidents of India's sportspersons facing harassment due to the unprofessional attitude of the sporting body has once again resulted in India's top shooters, Anjali Bhagwat and Heena Sindhu spending sleepless night at Bangkok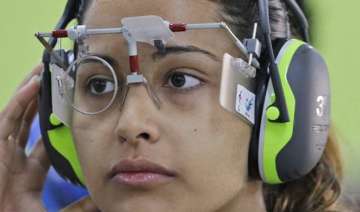 India TV News Desk
April 16, 2015 17:28 IST
Bengaluru:  The incidents of India's sportspersons facing harassment due to the unprofessional attitude of the sporting body has once again resulted in India's top shooters, Anjali Bhagwat and Heena Sindhu spending sleepless night at Bangkok airport.
The incident took place when the Jet Airways officials denied them permission to board the flight to Mumbai as they were carrying their guns.
Heena Sindhu while speaking to media has said "Despite having all the documents and paying all the fees, Shailesh Gala, the security manager of Jet Airways in Bangkok, didn't allow us to board the flight. We showed him the DGCA permit and the customs clearance letter but he was adamant and said, 'I won't allow you to board the flight'. I asked him to give this in writing but he refused. We almost missed the Air India flight too because of his attitude."
The shooters landed in Mumbai eight hours behind thier original schedule. Earlier the shooter did not face any problem while boarding the Korea Air flight from Busan to Bangkok. It was only after the Korean officials told that Jet Airways was not accepting the baggage with guns.
The two shooters had no problem while boarding the Korea Air flight from Busan to Bangkok with their guns checked in and also got the Jet Airways boarding pass for Bangkok to Mumbai sector. However, they were told in Bangkok by the Korean officials that the Indian airline was not accepting their baggage with guns.
It was only after the officials of Korean Airways informed the shooters that Jet Airways were not allowing carrying their guns along with their luggage, that both Anjali and Heena came to know about the incident.
Meanwhile Anjali Bhagwat said: "The security manager told us that NRAI should have given all the documents in advance. It is written on our tickets that we were carrying weapons but the airline didn't accept it."
When asked about the incident, a Jet Airways spokesman said the preliminary report he got was that the shooters were not carrying the required documents.