Belgian Grand Prix: Force India lose fifth place to McLaren
Spa Francorchamps: Adrian Sutil's ninth place finish in the Formula 1 Belgian Grand Prix here on Sunday could not prevent Force India from losing the fifth place to McLaren in the teams standings.Sutil earned two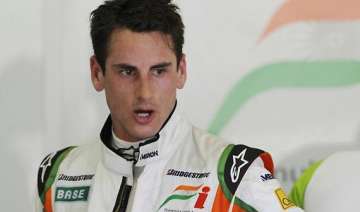 IANS
August 25, 2013 20:31 IST
Spa Francorchamps:
Adrian Sutil's ninth place finish in the Formula 1 Belgian Grand Prix here on Sunday could not prevent Force India from losing the fifth place to McLaren in the teams standings.
Sutil earned two points for the team while teammate Paul di Resta's race was cut short after a collision with Williams driver Pastor Maldanado. Force India are now placed sixth among the 11 participants.
McLaren got ahead of the Silverstone outfit courtesy Jenson Button, who collected eight points for coming sixth.
McLaren now have 65 points to Force India's 61. The next round is in Monza Sep 6-8.
Red Bull's Sebastian Vettel won the Belgian Grand Prix ahead of Fernando Alonso in the Ferrari and Lewis Hamilton of Mercedes.