Belgian Grand Prix: Vettel wins to extend overall lead
Belgium: Sebastian Vettel overtook Lewis Hamilton on the first lap and comfortably held his lead to win the Belgian Grand Prix on Sunday and extend his overall championship lead. It was Vettel's fifth win of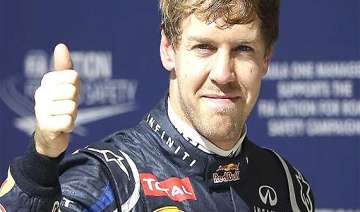 India TV News Desk
August 25, 2013 19:52 IST
Belgium:
Sebastian Vettel overtook Lewis Hamilton on the first lap and comfortably held his lead to win the Belgian Grand Prix on Sunday and extend his overall championship lead.
It was Vettel's fifth win of the season, second from three GPs, and 31st of his outstanding career.
Fernando Alonso drove brilliantly from ninth on the grid to take second place ahead of Hamilton and move back into second overall in the title race.
Speculation heading into Spa was of Hamilton emerging as the biggest threat to Vettel's bid for a fourth straight title, but within one minute Vettel dismissed that talk with a slick passing move inside Hamilton's left.
The German was never troubled after that.
Vettel started from second on the grid after Hamilton secured his fourth straight pole position.