Govt identifies 45 athletes as potential medal winners in Rio Olympics
New Delhi: The Sports Ministry has identified 45 potential medal winners, who will get financial assistance under the government scheme 'Target Olympic Podium' for the 2016 Rio Games."Financial Assistance is available for such athletes from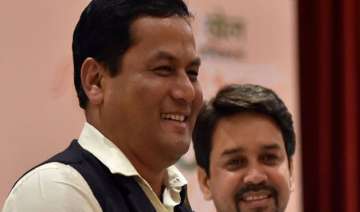 PTI
April 21, 2015 21:11 IST
New Delhi: The Sports Ministry has identified 45 potential medal winners, who will get financial assistance under the government scheme 'Target Olympic Podium' for the 2016 Rio Games.
"Financial Assistance is available for such athletes from National Sports Development Fund for training and competition for preparation for Olympics 2016/2020," a Ministry release said.
Approximately Rs, 30 crores have been earmarked for preparation of these athletes subject to stipulated conditions, Sports minister Sarbanada Sonowal said in a written reply in the Lok Sabha. 30 more athletes will be integrated into the scheme.
The minister, on his twitter page, wrote that the sportspersons have been chosen from various sports.
"Athletes were chosen from athletics, badminton, boxing, shooting, wrestling n sailing. 30 more to be identified from archery," Sonowal tweeted.