IBL:Lee Chong Wei to miss first IBL tie
New Delhi: The glimmer hope of Indian Badminton League (IBL) franchise  Mumbai Masters  dashed when World No.1 and its  icon player Lee Chong Wei again  delayed his travel plans and now will miss his first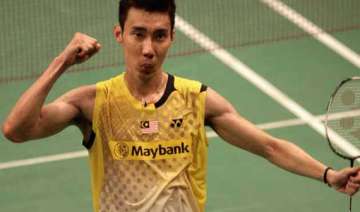 IANS
August 15, 2013 14:36 IST
New Delhi:
The glimmer hope of Indian Badminton League (IBL) franchise  Mumbai Masters  dashed when World No.1 and its  icon player Lee Chong Wei again  delayed his travel plans and now will miss his first tie of the tournament against the Banga Beats here Thursday.
The Malaysian, who skipped the opening ceremony of the IBL here Wednesday, was expected to arrive in time Friday for his team's maiden outing.
But he has again postponed his travel plans and will be arriving only late at night.
The World No.1 had retired from the World Championships men's singles final Sunday with cramps against Chinese legend Lin Dan in Guangzhou and is not expected to be in top physical. He has a heavily strapped ankle.
"Lee Chong Wei will arrive in India on Friday night. He was supposed to come on Wednesday but had to delay his travel plans. He has a bandaged ankle but should be able to recover in time to play the tournament," Ashish Chadha, chief executive of IBL's commercial partner Sporty Solutionz, told IANS Thursday.
The Malaysian ace will join his team in Lucknow for their clash against the Pune Pistons Saturday.
Lee Chong Wei was bought by the Masters for a whopping $135,000 at the players' auction.