India Finish Third At Asian Athletics
Guangzhou (China) Long distance runner Kavita Raut and women's 4x400m relay team won a silevr each while men's 4x400m relay quartet bagged a bronze on the final day as India ended the Asian Athletics Championships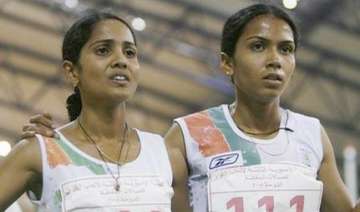 PTI
November 15, 2009 10:10 IST
Guangzhou (China) Long distance runner Kavita Raut and women's 4x400m relay team won a silevr each while men's 4x400m relay quartet bagged a bronze on the final day as India ended the Asian Athletics Championships at third position here on Saturday.
India, who sent a 60-strong squad, ended the five-day competition at third with 12 medals (one gold, 4 silver, 7 bronze). China (18 gold, 19 silver, 10 bronze) and Japan (12 gold, 5 silver, 5 bronze) finished first and second respectively.
Raut, who had won a bronze in 5000m on the opening day, ran her personal best of 34:17.21 in the 1000m race. She gave a tough fight to 2009 Berlin World Championships marathon gold winner Xue Bai who won the race in 34:11.14.
Raut, who was preferred  to last edition medal winner Preeja Shridharan in both 5000m and 10000m, bettered her earlier personal best of 34:23.80.
Compatriot Preeti Rao was seventh with an effort of 35:22.65. Another Chinese, Wang Jiali stood third with a last-gasp dash in 34:22.64.
The Indian women's quartet of Mandeep Kaur, Sini Jose, K Chitra Soman and Manjeet Kaur then fetched the country's second silver of the day in 3:31.62 behind China (3:31.08).
Japan took the bronze at 3:31.95.
The surprise package were the men's 4x400m relay quartet of Harpreet Singh, Bibin Mathew, VB Bineesh and Shaikh Mortaja who won a bronze, clocking 3:06.83. Japan (3:04.13) and China (3:06.60) won gold and silver respectively.
The men's and women's 4x100m relay teams, however, flopped. The women's quartet were disqualified while the men's team of NB Gobbaragumpi, Sathya Suresh, Sameer Mon and Abdul Najeeb Qureshi finished fifth with a time of 39.58.
In women's high jump, Sahana Kumari was seventh with an effort of 1.80m.
Surendra Kumar pulled out of the men's 10,000m race, which saw compatriot Sunil Kumar finishing sixth with a time of 29:28.73. Surendra did not take part in 5000m also.
In men's javelin throw final, Narayan Om finished fourth by clearing a distance of 75.36m.