India women's recurve team win second successive World Cup title
Wroclaw (Poland): The Indian trio of Bombayala Devi, Deepika Kumari and Rimil Buriuly won back-to-back World Cup titles beating the formidable South Korea in the women's recurve team final here on Sunday.India got the better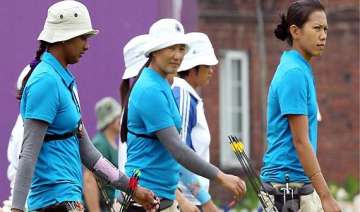 IANS
August 25, 2013 18:22 IST
Wroclaw (Poland):
The Indian trio of Bombayala Devi, Deepika Kumari and Rimil Buriuly won back-to-back World Cup titles beating the formidable South Korea in the women's recurve team final here on Sunday.
India got the better of Korea 219-215 for their second major title in as many months.
Bombayala, Deepika and Rimil had won the World Cup Stage 3 in Medellin, Colombia last month.