'IOC chief Bach wants India to win more Oly medals'
New Delhi: International Olympic Committee President Thomas Bach, who is meeting Prime Minister Narendra Modi later this month, feels that a huge country like India should win more Olympic medals and aim to become a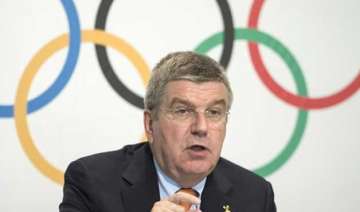 PTI
April 16, 2015 11:19 IST
New Delhi: International Olympic Committee President Thomas Bach, who is meeting Prime Minister Narendra Modi later this month, feels that a huge country like India should win more Olympic medals and aim to become a sporting powerhouse in the future, according to IOA President N Ramachandran. 
Ramachandran, who had visited the IOC headquarters in Lausanne to invite Bach for a meeting with PM Modi in the last week of this month, said that the IOC chief was upbeat about Indian sports scaling new heights in the near future. 
"Obviously, Mr Bach is upbeat about Indian sports. He asked me why the second most populous country in the world was winning just a few medals in the Olympic Games. He wants India to win more medals in the Olympics," Ramachandran told PTI. 
"He feels that India should do better in Olympic Games and become a sporting power in the future," the Indian Olympic Association President said. 
Ramachandran did not divulge much on what Bach would discuss with the Prime Minister but said that the meeting could give a big push to funding on Olympic sports, including the prospect of the corporate sector loosening its purse strings. 
"I am not in a position to tell what Mr Bach will discuss with our Prime Minister. But such a meeting will give a big push forward for Olympic sports in India. We can ask for more funds for the athletes from the government," he said. 
"There is money in the country and it is only to find the ways of how to generate it. We hope the corporate sector will start funding Olympic Sports," he added.