IOC chief to meet PM Modi on Monday evening
New Delhi: International Olympic Committee President Thomas Bach will arrive here on Friday for his one-day whirlwind visit and is scheduled to meet Prime Minister Narendra Modi on Monday to discus ways to take Indian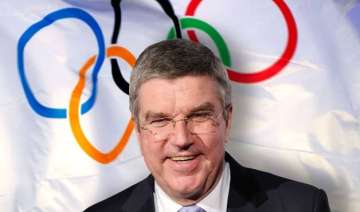 PTI
April 25, 2015 17:37 IST
New Delhi: International Olympic Committee President Thomas Bach will arrive here on Friday for his one-day whirlwind visit and is scheduled to meet Prime Minister Narendra Modi on Monday to discus ways to take Indian sports forward amid speculation that the country might bid for 2024 Olympics. 
Bach, who will be on his first visit to India after taking over as the head of IOC in 2013, will arrive here late in the Sunday evening and will have a meeting with the Prime Minister on Monday. 
The crucial meeting of Bach with the Prime Minister has been scheduled for 5pm on Monday. Before that, the IOC chief will meet the Executive Committee of the Indian Olympic Association in the morning at 10am at a city hotel. 
Bach, who hails from Germany, is likely to interact with the media before flying back to Lausanne, the seat of the IOC, on Monday night. 
IOA and sports ministry officials are tight-lipped on whether India will express its desire to bid for the 2024 Olympic Games during Bach's meeting with the Prime Minister. 
Boston, Hamburg and Rome are already declared bidders for 2024 Olympics. 
IOC President Bach recently met French President Francois Hollande to discuss Paris' prospects to bid for the 2024 Olympics. He has also visited several countries recently and met the Prime Ministers of Hungary and Kosovo and the Presidents of Serbia, Ukraine and Russia to discuss issues related with the Olympics Reform Agenda 2020. 
He will also visit Australia on Wednesday to discus Brisbane's possible bid for 2028 Olympics and will meet Prime Minister Tony Abbott, according to reports.