IWF Takes Tough Stand, To Take Strong Action Against India
The International Weightlifting Federation (IWF) on Saturday vowed to crack the whip on repeat dope-offender India, saying that strong action will be taken against the country for a series of dope flunks by its lifters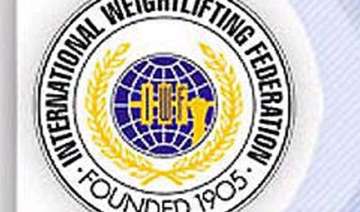 PTI
November 21, 2009 18:04 IST
The International Weightlifting Federation (IWF) on Saturday vowed to crack the whip on repeat dope-offender India, saying that strong action will be taken against the country for a series of dope flunks by its lifters last month.
The IWF, whose executive board continued its meeting for the fourth day in Goyang City, Korea, today issued a statement indicating that considering India's dope-tainted past, the country is unlikely to be handed any lenient punishment.
"The IWF executive board today discussed the issue of the several Indian positive doping cases, regarding the fact that India has repeatedly produced multiple cases in recent years," a statement from the world body said.
"On the other hand, however, the cases are still in process. The Executive Board shall take a very strong action against the Indian Federation, once all the cases are closed. Such actions will be made public upon the closure of the last case," it added.
IWF's tough stand would surely be a cause of concern for the Indian Olympic Association, which is hoping for a lenient view by the world body so that the country can field its weightlifters in next year's Commonwealth Games here.
The whole executive committee of the national body had resigned on the diktat of the IWF and the Indian officials were hoping for a lesser punishment. The IOA was also mulling over holding elections to the national body if it is let off with only a fine by the IWF.
India is facing a ban of maximum of four years after six of its lifters tested positive in the out-of-competition tests conducted by WADA in September in Pune.
Out of the six, only one lifter has asked for 'B' sample test before the stipulated deadline for confirmation in WADA-accredited laboratory in Cologne in Germany. This means that five Indian lifters have been confirmed as dope offenders.
Under IWF rules, a national federation can be banned for a maximum period of four years with or without fine if four or more of their lifters test positive.
A ban of more than a year will result to India facing the ignominy of not being able to field its lifters in the October 3-14, 2010 Commonwealth Games here. PTI