Latest news not good: Ex-Ferrari president on Michael Schumacher's health
Milan: Former Ferrari president Luca Di Montezemolo yesterday expressed his unhappiness at the condition of Michael Schumacher, two years after the former Formula One champion was seriously injured in a skiing accident.When asked if he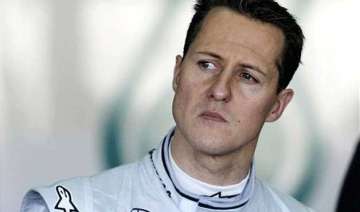 India TV News Desk
February 06, 2016 12:44 IST
Milan: Former Ferrari president Luca Di Montezemolo yesterday expressed his unhappiness at the condition of Michael Schumacher, two years after the former Formula One champion was seriously injured in a skiing accident.
When asked if he had any news about Schumacher, at a media event in Milan, Montezemolo said, "Unfortunately it's not good, it's not as good as one would have hoped."
Michael, who had sustained severe head injuries in France in December 2013 is presently being cared for at his home in Switzerland.
"Everyone said he was a really fast skier. That's not true, it's by one of life's chances that he finds himself still in this condition," Montzemolo said.
"He was a great driver. We had great years together, also on a personal level, he had a kid, I had a kid. We had a great personal relationship. I think he deserves a great round of applause," he added.
The audience duly broke into applause for the 47-year-old former champion.
Schumacher's accident happened on a family vacation as he was skiing with his 14-year-old son at the Meribel ski resort in the French Alps. The avid skier hit the right side of his head on a rock, cracking his helmet. Doctors operated to remove blood clots from his brain, but some were left because they were too deeply embedded.
Schumacher's condition stabilized after he was placed in a drug-induced coma, from which he later emerged.
The German driver, who made his name with Benetton before joining Ferrari in 1996, had won a record seven F1 titles and 91 races.