Motorsports: Rana, Joshua top time charts
Mysore, Aug 5: Suresh Rana (co-driver Parminder Thakur), driving a Grand Vitara, and Pramod Joshua on a TVS Apache, topped the provisional overall classifications among four and two-wheelers, respectively on conclusion of Leg 1 in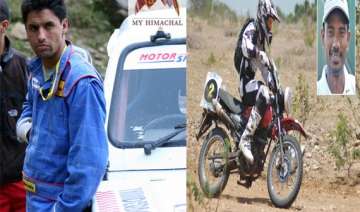 IANS
August 06, 2013 15:51 IST
Mysore, Aug 5:
Suresh Rana (co-driver Parminder Thakur), driving a Grand Vitara, and Pramod Joshua on a TVS Apache, topped the provisional overall classifications among four and two-wheelers, respectively on conclusion of Leg 1 in the Extreme category of the 5th Maruti Suzuki Dakshin Dare Rally here on Monday.
Rana negotiated the two tricky Competitive Stages that were run thrice near Tiptur, displaying his mastery in no uncertain manner to top the overall time charts clocking one hour, four minutes and 12 seconds on a day that saw a couple of crashes but competitors surviving without major injuries.
Behind the eight times Raid de Himalaya champion Rana was Amanpreet Ahluwalia (Venu Ramesh) in a Gypsy with a time of (01:05:18) while Bangalorean Sanjay Agarwal (E Shivaprakash), also in a Gypsy was lying third with 01:07:51.
Joshua of TVS Racing, who crashed out last year, rode quite brilliantly, braving spells of rain, to clock 01:06:54, ahead of team-mate and 2012 champion Nataraj Rajanna (01:07:27) also on an Apache while Mohit Verma astride a KTM Duke was third in 01:07:56.
In the B-165cc class, Nanda Gopal was in the lead with 01:11:26, followed by Akshay (01:11:45) and Raja (01:12:52), all riding the TVS Apache.
Although the competitors were spared of heavy rains and the weather remaining overcast, the two tarmac stages (12.1 km and 18.8 km) put to test the driving and riding skills with some slippery patches catching a few participants by surprise.
Of the 12 four-wheelers, nine managed to complete Leg 1 while 11 of the 15 bikes and three of the six scooters that were flagged off from Bangalore early this morning made it to the night halt in Mysore. The competitors leave for Ooty via Kodagu on the second Leg Tuesday.
Provisional classification (Leg 1 - Extreme):
4-Wheelers (Overall): Suresh Rana / Parminder Thakur (Grand Vitara - T1) 1 (1hr, 4mins, 12secs); Amanpreeth Ahluwalia / Venu Ramesh (Gypsy - T1) 2 (01:05:18); Sanjay Agarwal / E Shivaprakash (Gypsy - T1) 3 (01:07:51).
T2 (Class 4, 2WD): Samrat Yadav / Amarjit Singh (Baleno) 1 (01:09:10); Pramod Raman / Vinay BM (Esteem) 2 (01:11:02); Imran Khan / Gagan Vijay (Esteem) 3 (01:11:03).
T2 (Class 4, 4WD): Dharmapal / Rajeev (Gypsy) 1 (01:15:41); Shahid Khan / Dhananjaya (Gypsy) 2 (01:24:35).
Two-wheelers (Overall / Group B-260cc): Pramod Joshua (TVS Racing, Apache) 1 (01:06:54); Nataraj Rajanna (TVS Racing, Apache) 2 (01:07:27); Mohit Verma (KTM Duke) 3 (01:07:56).
Group B-165cc: Nanda Gopal (TVS Apache) 1 (01:11:26); Akshay (TVS Apache) 2 (01:11:45); Raja (TVS Apache) 3 (01:12:52).
Scooter: Amit Belgaonkar 1 (01:22:29); Hiten Thakkar 2 (01:25:22); Anish Nair 3 (01:28:09).