NSCI multi-sport indoor stadium inaugurated
Mumbai, Aug 4: The much-delayed multi-sport indoor stadium at the National Sports Club of India (NSCI), was finally inaugurated here on saturday.It was inaugurated by the Union Home Minister Sushil Kumar Shinde, Union Minister for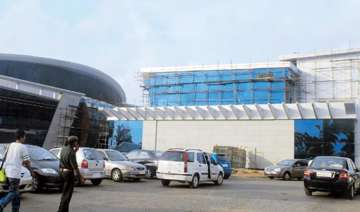 PTI
August 04, 2013 11:23 IST
Mumbai, Aug 4:
The much-delayed multi-sport indoor stadium at the National Sports Club of India (NSCI), was finally inaugurated here on saturday.
It was inaugurated by the Union Home Minister Sushil Kumar Shinde, Union Minister for Heavy Industries Praful Patel, Maharashtra Chief Minister Prithviraj Chavan, Maharashtra PWD and Tourism Minister Chhagan Bhujbal.
The Sardar Vallabhbhai Patel Stadium, currently the only one of its kind in Maharashtra, is set to host matches of the inaugural Indian Badminton League from August 14-31.
It will also host the World Karate Championship featuring participants from 45 nations.
"Mumbai should not be left behind in sports. There is not only cricket, but there are many other sports who don't get international status. I compliment NSCI for making this multi-purpose indoor stadium. We have some few spaces...but in those few spaces, we need to create world class facilities.  This is the step in the right direction," Praful Patel, who is also the All India Football Federation President, said.
The construction for the multi-purpose stadium started 10 years ago at an estimated cost of Rs 250 crore. It is air-conditioned and has a seating capacity of 3,150 which can be expanded to fit in another 2,500 persons.
"After an ordeal of 10 years, I am saying ordeal, because the construction went on and on, but the result is beautiful.  We have a world class facility here. We will try and put this on the sports map of India," Prithviraj Chavan said.