Powell, other Jamaican athletes deny doping
Montego Bay (Jamaica), July 15: Three of Jamaica's top athletes including Asafa Powell have denied taking banned substances after the Jamaica Anti-Doping Commission (JADCO) confirmed that five of the country's athletes have tested positive for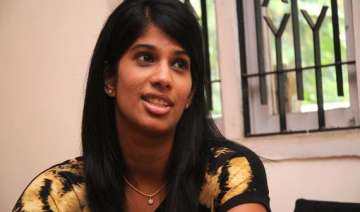 IANS
July 15, 2013 21:25 IST
Montego Bay (Jamaica), July 15:
Three of Jamaica's top athletes including Asafa Powell have denied taking banned substances after the Jamaica Anti-Doping Commission (JADCO) confirmed that five of the country's athletes have tested positive for illegal substances.
JADCO did not name the athletes but reports say they include former men's 100m world record holder Powell, Olympic silver medallist Sherone Simpson and Central American and Caribbean Senior Games discus champion Allison Randall.
Although the three have refuted the claims that they have used Performance Enhancing Drugs (PED), the results mean that they have been provisionally banned from competition until they face a disciplinary hearing.
"I have never knowingly or wilfully taken any supplements or substances that break any rules. My attitude towards doping regulations and testing is well-known and I willingly give samples whenever requested. This result has left me completely devastated in many respects," said Powell in a statement.
"Personally, however, this result comes at a greater cost. I write this statement knowing fully that my family, friends, fans and country will be disappointed at this latest development. I am reeling from this surprising result."
Powell and Simpson had tested positive for a stimulant 'oxilofrine' (methylsynephrine), while Randall had tested positive for Hydrochlorothiazide, which is a diuretic that can be used as a masking agent for the use of other more powerful drugs.
Simpson was part of the Jamaican team that set a new national record 41.41 seconds in the 4x100m relays while taking silver at the London Olympics last year.
She said it was "a very difficult time for me... As an athlete, I know I am responsible for whatever that goes into my body". Simpson has apologised to family, fans and sponsors.
In protesting her innocence, Randall said she could not afford the cost of PEDs and in an interview with the Jamaica Observer on Sunday said she was "embarrassed and shocked" and had never heard of the substance before.
The news sent shock waves through the Jamaican sporting fraternity coming on the heels of American former World Championships double sprint champion Tyson Gay admitting to failing a drug test.
It also compounded the news that broke just over a month ago that multiple Olympic Games and World Championships champion Veronica Campbell Brown had also failed a drug test.
Another Jamaican athlete, Dominique Blake, was also banned for six years in June after failing a drug test at the National Senior Trials last year. She is set to appeal the sentence.
Powell's trainer held
Physical trainer associated with former world record holder Asafa Powell and Olympic medallist Sherone Simpson was held and questioned by Italian Police on Sunday night.
The trainer's name has been withheld but the person was reportedly questioned about the presence of banned substances found in samples provided by the athletes at the National Senior Championships held last month, CMC reports.
Powell's publicist and business partner Tara Playfair-Scott confirmed on her twitter page that the Canadian trainer, who joined the MVP camp in May, was detained by Italian police after the officers raided his hotel room in Italy.